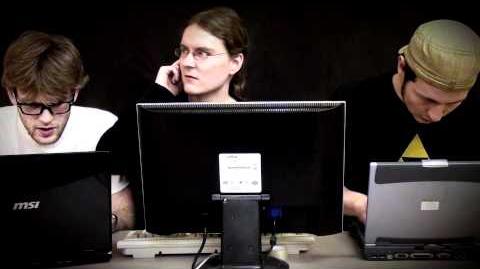 This is the Jan and Arjen Sjo's first Christmas Special: Neon Genesis Solistice. The original idea for this video came one night when the team was watching the first
Neon Genesis Evangelion
movie. The technical mumbo jumbo during one of the scenes in which the characters prepare for combat, That combined with
Sjo's
unquenchable desire (nay,
need
) to make a Christmas special, inspired this script.
Starring (by group):
Edit
Mision Control:
Edit
Sjo as The General
Jan as 1st Lieutenant Yusuf Alhazred
Orbital Space Teliscope:
Edit
Jan as Captain Henri de la Maire DSc
Arjen as Scientist Levi Langnar DSc
Sjo as Scientist Mike Zacharius DSc
Delta team in the field:
Edit
Jan as Sergeant Major Cornelius Chesterfield
Sjo as Corporal Blutch
Arjen as Private 1st class Jenkins
Tech station:
Edit
Arjen as super hacker PWNN00bz666
Core Techical Unit
Edit
Jan as specialist technician Luke Rooseveld
Arjen as specialist technician Saul Jøhannson
Sjo as specialist technician Erwin von Ravenstein
Ad blocker interference detected!
Wikia is a free-to-use site that makes money from advertising. We have a modified experience for viewers using ad blockers

Wikia is not accessible if you've made further modifications. Remove the custom ad blocker rule(s) and the page will load as expected.