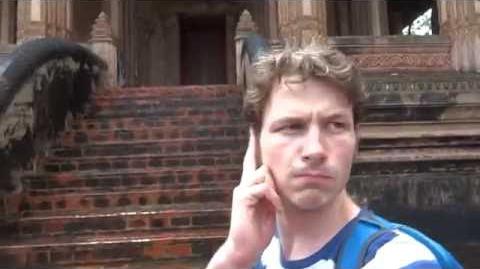 The
Jan
and
Arjen
Sjo
returns once more with a tale as old as time. Jan and Arjen are in dire need of assistance and turn their cries of help to the tower of strength called Sjo. He will travel any distance and conquer any obstacle to aid his trusted companions. Surely they won't take advantage of this… I think.
A long long time ago:
Edit
A little more than two years ago Sjo had the idea to make a Boy that cried Wolf kind of movie. He filmed himself on his journeys through Germany, Laos, Myanmar, and Thailand to gahter all the needed materials. Later the scenes with Jan and Arjen were filmed back in the Netherlands. It took over two years to film all the scenes and put it together. but it was worth the wait.
Because the scenes were filmed in five different countries it is the most international Jan and Arjen Sjo video so far. Beating the Japan videos which was only filmed in two countries.
Starring:
Edit
Jan as Himself
Arjen as Himself
Sjo as Himself and the Demon