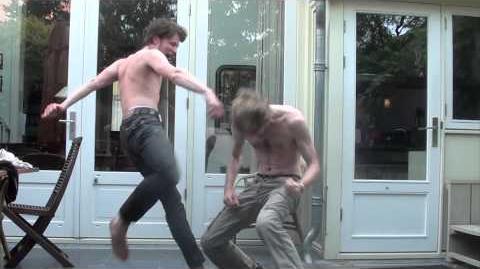 Fight Scene Fail is a blooper video of
Arjen
and
Sjo
hurting themselves in a staged fight. This happened during the first tests for what would later become
Free-for-all Brawl Royale
. The mistake here is Arjen linfting his head too soon and knocking it into Sjo's knee. Even though it might look like it was actually the hand that hit (since it seems to touch Arjen's head at about the time the reflex sets in) Sjo's hand actually did not touch Arjen's head.
Ad blocker interference detected!
Wikia is a free-to-use site that makes money from advertising. We have a modified experience for viewers using ad blockers

Wikia is not accessible if you've made further modifications. Remove the custom ad blocker rule(s) and the page will load as expected.