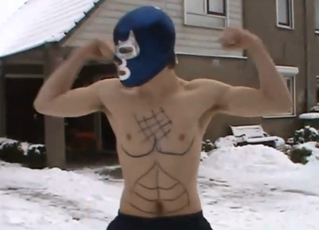 El Diablo is the main super villain in The
second episode
of the
captain earwax
series. This character is played by
Sjo
with a mask that he bought in
Mexico
on one of his journeys.
El Diablo Speaks only Spanish which makes him impossible to understand. At the door he is confused by the captain for a girl scout. El Diablo has a very unique way of dealing with misunderstandings. He uses the Lucha Libre.
He has two children, a boy and a girl. The boy is called Carlos and the girl's name is Fernanda.
Appearances
Edit
There is no explanation why he came to the Captain's mansion in the second Captian Earwax episode but he'll brawl anywhere. In the end he is defeated by his only weakness: another mexican wrestler.
Ad blocker interference detected!
Wikia is a free-to-use site that makes money from advertising. We have a modified experience for viewers using ad blockers

Wikia is not accessible if you've made further modifications. Remove the custom ad blocker rule(s) and the page will load as expected.