Doctor Villain is an antagonist in the
Captain Earwax
series and the arch-enemy of the
Captain
. He wears a medical doctor's costume, complete with stethoscope. This character is played by
Sjo
.
Doctor Villain is a real medical doctor. He has a PhD in villainness and a major in electrical engineering. All of his weapons are handmade. The doctor enjoyes a good laugh and plays the piano. He has a inquisitive Nature, that's why he tried to eat the earwax that was on his gun. In the third captain earwax episode he infiltrates the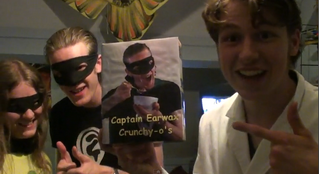 Captain's hideout and tries to find all the weaknesses.He is later stopt by "Captain Earwax Crunchy-o's ".Doctor Villain has several henchmen which he callls goons. Two of them apear in the first episode. One of them is a humpback and the other has a mask over his face that makes him unable to see.
Advanced weapons. He and his henchmen all have futuristic weaponry.
He works at the local academic hospital as a cardiac surgeon
An army of henchmen / goons (2 of them)
Medical proffesion
Edit
As a cardiac surgeon he is specialised in:
Ischemic heart diseases
Coronary artery bypass grafting
Congenital heart diseases
Valvular heart diseases from various causes including endocarditis, reheumatic heart disease, and artherosclerosis
Heart transplantation
Ad blocker interference detected!
Wikia is a free-to-use site that makes money from advertising. We have a modified experience for viewers using ad blockers

Wikia is not accessible if you've made further modifications. Remove the custom ad blocker rule(s) and the page will load as expected.