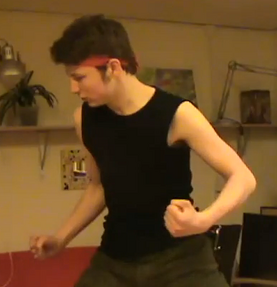 The Commando is a character from
Pirate vs Ninja 3
. The idea for this character came from Rambo. In the beginning of the third episode of
Pirate vs Ninja
he starts out as Mr.S but is transformmed by the trump card gun. In the team he is the tactician but when they all seperate all tactics are abandoned. This character is played by
Sjo.
As Mr. S he can be recognised by his iconic scarf/tie. The
B.P.M
. and the Commando decide that they match eachother in strength so they decide to test there skills. They play 11 games until the
B.P.M
. ends up as the winner. The games they played are: shuffleboard, thumb wrestling, solitaire, dance dance revolution, mortal combat, trivia, monopoly, staring contest, sudoku, pie baking, and math.
He is currently locked in the cellar of the WGO headquarters.
Ad blocker interference detected!
Wikia is a free-to-use site that makes money from advertising. We have a modified experience for viewers using ad blockers

Wikia is not accessible if you've made further modifications. Remove the custom ad blocker rule(s) and the page will load as expected.