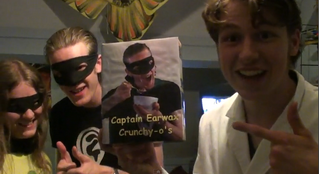 Captain Earwax Crunchy-o's™ is the most populair and disgusting cereal made with real earwax! The earwax is harvested from
the captain
himself. It was pulled from shelfs after it was discovered that real earwax was used. Many lawsuits followed.
It is known to be supercalifragilisticexpialidocious. Doctor Villain was paid to give up the fight whenever a box of Captain Earwax Crunchy-o's™ and a camera apeared in the same room. with the money he's planning to take over the world.
Ad blocker interference detected!
Wikia is a free-to-use site that makes money from advertising. We have a modified experience for viewers using ad blockers

Wikia is not accessible if you've made further modifications. Remove the custom ad blocker rule(s) and the page will load as expected.