Professor Alexander Hole, or A. Hole,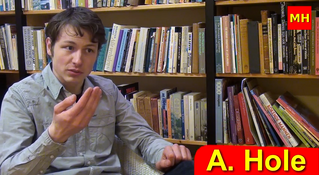 is the omnis specialitas in the world of the
Jan
and
Arjen
Sjo
. He is usualy consulted for his knowledge in
documentaries and
other
educational videos
. He works as a proffesor at the local university and has his own clinic where he treats
people with temporal Anomalies
.
Professor D. Bagg
is his colleague and personal friend. His connections with
The Professor
are unknown.
Specializations (so far)
Edit
Ad blocker interference detected!
Wikia is a free-to-use site that makes money from advertising. We have a modified experience for viewers using ad blockers

Wikia is not accessible if you've made further modifications. Remove the custom ad blocker rule(s) and the page will load as expected.